Rhinoplasty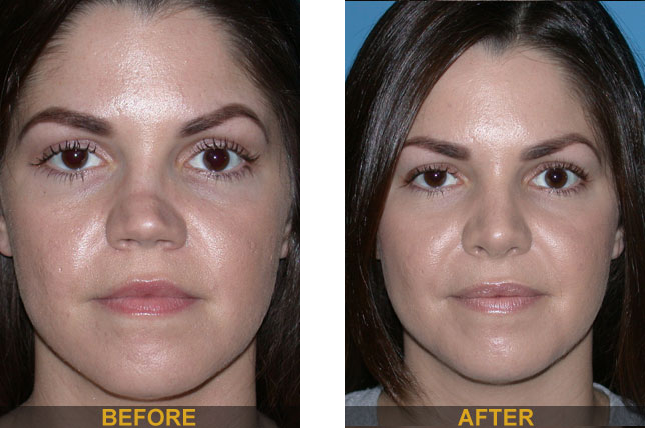 Nose surgery, or rhinoplasty, can be performed on any part of the nose. This procedure can be used to increase or reduce the prominence of the nose, to modify the contours of the bridge or tip, or to shorten or lengthen the nose, or to make the nose appear straighter. Some patients also seek surgery to correct a deformity from injury or to improve breathing. We include computer imaging to illustrate changes you can reasonably expect from rhinoplasty surgery and to insure you and Dr. Young have the same desired outcome.
The objective of surgery should be to improve the appearance of your nose and that it complements your face. Dr. Young's focus is to create a change in the appearance of your nose that looks natural, balanced, and symmetric, while maintaining or improving your ability to breathe through it. Dr. Young uses cartilage taken from your septum as structural or supportive grafts to maintain, over the long term, the shape and contours of the bridge and tip of your nose. This minimizes the natural tendency of surgically-altered cartilages to twist and collapse over time.
Computer imaging during a rhinoplasty consultation is extremely beneficial. It is a visual aid which improves communication between surgeon and patient, so that you will better understand what you could expect from surgery, and enables Dr. Young to know what you want from the procedure. Although the proposed images are not a guarantee of the surgical result, patient's actual results from surgery are very similar to the proposed images. Dr. Young takes your pictures, as well as the proposed post-op result, to the operating room, so he is visually reminded of your surgical goal throughout the procedure. Dr. Young wants to provide the best possible result for you, and therefore will make the additional effort and take the time necessary to address all of your concerns to his satisfaction during surgery.
Revision Rhinoplasty
Rhinoplasty is regarded as the most difficult plastic surgery procedure, and revision rhinoplasty is more complicated than a rhinoplasty performed for the first time. Revision rhinoplasty involves operating on tissue of the external nose and septum (the dividing partition inside the nose), which has healed from previous surgery or surgeries, with resultant scar tissue. Operating through scar tissue is usually associated with more nuisance bleeding and therefore longer operative time. Cartilage and/or bone may have been removed during the previous surgery, requiring cartilage reconstruction of weakened or distorted cartilages, especially of the nasal tip. Additional cartilage may also be used to help straighten the bridge of the nose, improve symmetry of the tip, and/or refine the profile.
In some cases, some degree of nasal obstruction may result from a previous rhinoplasty due to weakening of cartilage or excess removal of cartilage. A revision rhinoplasty procedure can include supporting or rebuilding areas of weakness or collapse, relieving the nasal obstruction. Insurance will usually pay for this portion of the procedure.
Dr. Young will frequently use cadaver cartilage which he fashions into small grafts to provide the needed support or to replace missing tissue from previous surgery. Cartilage reconstruction in this manner typically results in a longer surgery, and therefore more expense, however the long-term improvement in the appearance and function of the nose is very rewarding.
The Rhinoplasty Procedure and Recovery
In most rhinoplasty procedures, the skin of the nose is cut and lifted away from the bone and cartilage framework beneath, which is then shaped and sculpted as desired. The skin is then re-draped over the "new" framework, and a splint is applied to help your nose maintain its reshaped form. In some cases, soft splints may be placed inside the nose to provide additional stability and are removed one week after surgery. Bruising usually resolves at that time. External splints and sutures are removed in a week, and you can usually return to work or non-strenuous activities at that time. Most of the swelling usually resolves in 2-4 weeks depending on the thickness of your skin, however it is usually a year before all swelling is gone.
Questions?
Contact our Tennessee practice to learn more about rhinoplasty. We can be reached by calling our Nashville staff at (615) 321-5505 for a consultation. For your added convenience, we also offer an online contact form to answer any further questions you may have.
Contact Us